In honor of Derby weekend I thought it might be fun to repost this one. This is a great recipe for those spare pieces of meat you have in your freezer. You know those last two pieces of chicken left in the bag or that pork chop way in the back, the one that would not fit in the pan. Well, they have got themselves a purpose now. ;) I hope you enjoy this one as much as we do!
Hope you enjoyed your Derby weekend! :)
Burgoo is a stew that has been made in Kentucky since the time of Daniel Boone. It is usually slow-cooked in large batches and contains a wide variety of meats, vegetables, and spices. Some of the earlier versions contained squirrel, opossums, and about any other thing that walked or flew. These days, the most common meats included in burgoo are beef, lamb, pork, and poultry. Keeneland Racetrack still serves some of the best burgoo around. Like chili, there are thousands of variations on the recipe. Here is a slow-cooker recipe that is very good.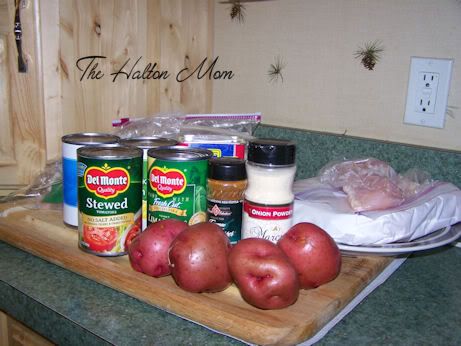 Ingredients
1 pound lean beef stew meat(I used venison cut into cubes)
1 pound pork stew meat or chops, cut in 1" pcs.
1 teaspoon onion salt
1/2 teaspoon black pepper
1/4 teaspoon ground red bell peppers
3 sliced carrots
1 medium onion, chopped
4 skinned chicken thighs
4 small red potatoes, peeled if desired and cubed
1 cup chopped green bell peppers
1 can (14 1/2 oz.) stewed tomatoes, cut-up and juice reserved
1 can (10 1/2 oz) double strength chicken broth (such as Campbell's condensed)
1 can (17 oz.) whole kernel corn
1 can (17 oz.) lima beans, drained
1 shot of Bourbon.
Place beef and pork in a 6-quart slow cooker. Sprinkle with onion salt, pepper and red pepper. Toss until evenly coated.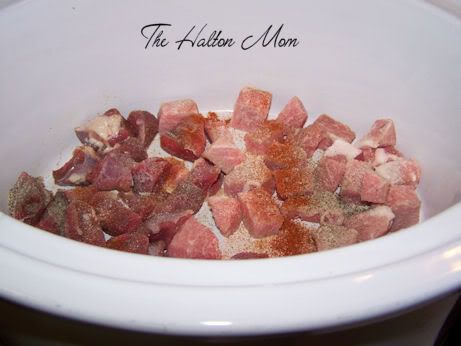 Layer in slow cooker, in order, carrots, onion, chicken, potatoes, green pepper and stewed tomatoes with juice. Add chicken broth. Pour liquid from corn into slow cooker; set corn aside.
Do Not Stir mixture in slow cooker. Cover and cook on high for 4 to 4 1/2 hours or on low for 8 to 9 hours or until beef, pork and vegetables are tender. Remove chicken. Stir corn and lima beans into mixture in slow cooker. Cook on high for 30 minutes or until heated through. Meanwhile, when cool enough to handle, remove chicken from bones and cut into bite-size pieces. Discard bones. Return chicken to mixture and heat through.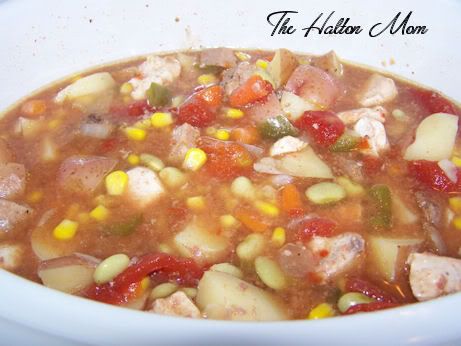 Verdict: We loved it! This soup/stew had a spicy kick with a familiar vegetable beef soup taste. My husband wondered what the big fuss was about, "Why is this dish so famous in Kentucky?" I reminded him that this dish orginated in Daniel Boone times. He was happy knowing vension was used in place of beef. My children really liked it with crackers, but cornbread would've been delicious too. I hope you all enjoy this one. Let me know if you make this for your family!

Subscribe via Email.