Hello gals, I'm back with another Slow Cooker recipe. I found this dish over at Recipezaar. You can print it
here
or click the link below to add it to your Recipezaar cookbook. Please note that in my recipe I added a couple of garnishes.
Italian Crock Pot Roast
½ day | 20 min prep
SERVES 4 -6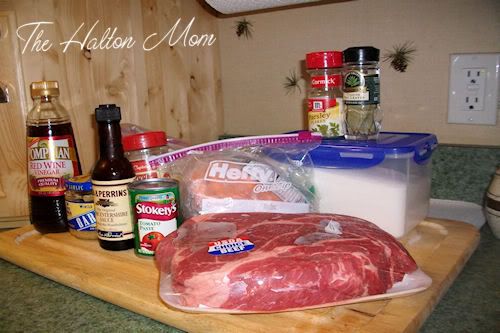 3 lbs chuck or round roast, salt and peppered
1 cup cubed celery
1 cup cubed onion
1 cup cubed carrot
8 garlic cloves, halved
1/2 cup chopped parsley
2 bay leaves
1 (6 ounce) can tomato paste
1 (10 ounce) can beef stock
3 tablespoons red wine vinegar
3 tablespoons Worcestershire sauce
1 tablespoon sugar
Mozzarella Cheese or Parmesan Cheese (optional)
4 Servings of cooked spaghetti (optional)
Place veggies in crock pot.
Pierce beef, from top, 2" deep, eight times.
Shove a garlic clove half and parsley into each slit.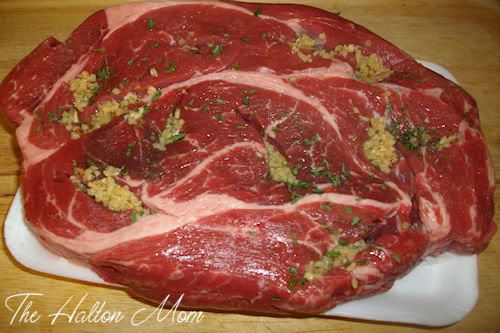 Add beef to pot.
Mix remaining ingredients
and pour over top.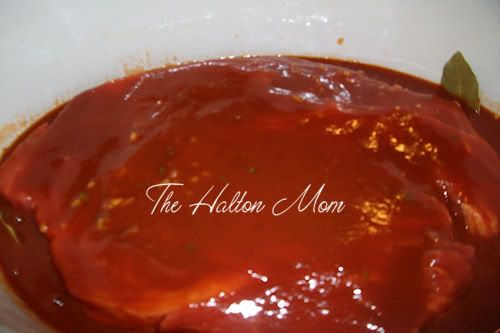 Cook on low heat for 8 hours.
The Review:
My family really enjoyed this, I was trying to copycat
Johnny Carinos Italian Pot Roast
. This is not the same but good. I wasn't as pleased as I was hoping. This dish has a sweetness to it and I'm not big on beef being sweet. I'm more of a savory girl when it comes to beef. Chicken, Pork, even Fish can be sweet but not Beef. So that might have been a personal issue. I would not let that keep you from trying this though b/c it introduces such healthy flavorful goodness to your children's palette. I put it over spaghetti and added mozzeralla to the top. My kids thought they were getting spaghetti and they loved it. If you try this dish and enjoy it please comment and let me know. I would also appreciate a follow or a subscription! God blessings to all.
For even more Crockpot/Slowcooker ideas head over to
Dining with Debbie's Crockpot Wednesday
!