We have had a winner for a while now. See the problem is I've been in the hospital with a sick child and back and forth two doctors with another. So I've been crazy stressed and not very bloggy friendly. Sorry gals and guys. I'm back! Well, for now. lol Well, because a Mom especially a mom of a kid with cancer can't plan or promise tomorrow. We have this moment and I'm giving it to you. So stick with me, we're on a rollcoaster folks and the waiting in line has ended for now take your seats and we're off!
So on to the winner! Eeeeeek. I've already email the winner and the sponsor and I've been given confirmation from the sponsor that
Misty #4
will receive her winnings soon if not already!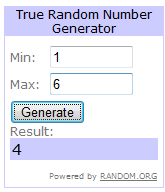 Congrats to Misty and thanks to each of you for reading my blog and entering my contest. It takes a lot to follow randomness and I appreciate your efforts! ha ha
Have a great day!