Welcome to my blog! I sincerely hope you enjoy your time here. I currently do reviews and giveaways. If you meal plan you've come to the right place. I love meal planning, recipes, and well...food!

While you are here subscribe to my blog! You will be automatically eligible to enter my giveaways going on right now. All you need to do is comment on the giveaway post to let me know you subscribe(Please read all instructions before entering).

Have fun meeting new bloggers with me for this Mega Friday Follow! Thanks for following please remember to leave a comment and let me know how to return the favor. :)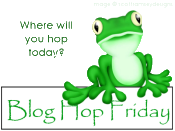 Have a good weekend!